National Research Council Canada (NRC)
Areas: on-road, off-road, rail, and aero
The National Research Council Canada (NRC) is the primary national agency of the Government of Canada dedicated to science and technology research & development. It is the largest federal research & development organization in Canada.
1. Climatic testing research facility
NRC's climatic testing facility provides a single location to test vehicle, rail car and component performance under an exceptionally wide range of conditions. Whether your application is climatic evaluation of the HVAC system in full-size rail cars, the testing of a new de-icing agent, a torture test for new systems in a military vehicle – or so much more, our facility will get you there faster and with certainty.
Designed specifically to evaluate the performance of even the longest and largest commercial and military equipment, vehicles and components under severe climatic conditions, the climatic testing facility can produce temperatures ranging from -46°C to +55°C.
A full suite of instrumentation and 500+ channels for data recording keeps track of performance under controlled conditions of snow, rain, freezing rain, ice, and fog – and even a combination of those conditions, changing where needed over a period of time to simulate changing weather.
Measuring 30 m in length, 6 m in width, and 6 m in height, the test chamber in the climatic testing facility is one of the largest and most versatile of its type in North America.
360° video: Climatic Testing Facility - National Research Council Canada
2. Heavy structural dynamics lab research facility
For heavy road and rail vehicles, vibration and shock are a constant – and often costly – fact of life.
To study these dynamics and manage their effects, the NRC maintains one of North America's most versatile vehicle vibration testing facilities.
Able to accurately reproduce vehicle responses measured in the field, the lab is an indispensable tool for controlled investigations and accelerated test programs of rail and road vehicles and components.
In the lab, a selection of hydraulic actuators can be configured to provide inputs to your vehicle, sub-system or component as required. Test plans can be created to address a wide variety of vibration and shock issues.
MTS Remote Parameter Control software generates precise reproductions of field-measured forces and displacements. Alternatively, the system can generate random, sinusoidal, step, sawtooth or other vibration patterns to sweep through problem areas and pinpoint issues.
3. Heavy vehicle tilt research facilities
When fleet operators, designers and modifiers need to know the static rollover threshold of their tractor trailer, tanker, straight truck or military vehicle, they visit our Heavy vehicle tilt facilities.
The facilities can measure roll response characteristics for modeling and verification of centre of gravity height estimates, as well as help identify the root cause of any vehicle rollover incident.
Consisting of a hydraulically actuated tilt table, electronic wheel scales for all axle groups and an extensive range of instruments that measure table angle, suspension angle and body angle, the Heavy vehicle tilt facilities are designed to measure the static rollover threshold and stability of any vehicle used in Canada, at any load level.
Vehicles up to 86.6 ft (26.4 m) in length and weighing 65 tons (59,000 kg) can be tilted up to 35° from the horizontal, under controlled conditions. First wheel liftoff as well as complete vehicle rollover can be determined, all without any damage to the vehicle and its suspension components.
In addition to rollover threshold, the tilt table can also be used to measure load transfer ratio, wheel and axle loads and suspension roll centre heights.
A second tilt table, located indoors, provides equivalent services for smaller vehicles (up to wheelbases of 24 ft (7.3 m) in length), with high weight concentrations and unusual features. The indoor table tilts to nearly 50°, is climate controlled and may be used all year.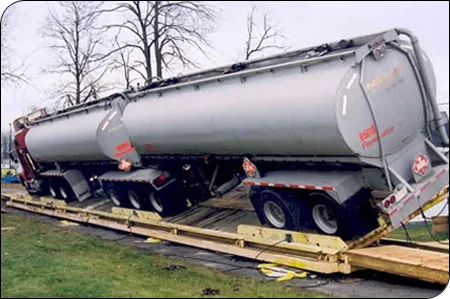 4. Rail vehicle impact ramp research facility
When In freight yards and on railway lines across North America, rail vehicles are frequently subjected to considerable strain when they experience longitudinal coupler impact forces that are measured in hundreds of thousands of pounds.
To ensure that cars and their cargo can withstand these stresses, the NRC offers a rail vehicle impact ramp with over a hundred channels of instrumentation to test, certify and improve performance.
Unique in Canada, the facility is certified by the Association of American Railroads (AAR) and uses a tow-car to place rail vehicles at predetermined locations on the ramp to achieve the desired impact speeds or forces when impacting into stationary anvil cars on the level track at the bottom of the ramp.
It can be used to perform impact tests for a variety of certification specifications, verifying design specifications, and conducting rolling squeeze tests.
Tests are conducted at speeds up to 16 mi/h (25 km/h) and decelerations of up to 4 g.
5. Compression and tension testing facility
The NRC offers stationary compression and tension test services in a rail vehicle squeeze and tension compression facility.
Available to industry to test and assess the structural integrity of rail cars, subway and intermodal vehicles, the facility houses a squeeze and tension frame – part of a complete solution to rail vehicle testing requirements which includes the rail vehicle impact ramp at the same location.
Designed for use by rail, subway and intermodal road/rail vehicles, our facility allows manufacturers to test car body structural strength and integrity, verify compliance with rail industry standards, and tests new drawbar devices for strength and lateral stability – all in a single location.
The facility itself is a frame consisting of twin parallel steel I–beams, two track-supported end pieces, and a double–acting hydraulic ram that can impart up to 1.25x106 lbf (5.56 MN) of longitudinal compression, and 400,000 lbf (1.78 MN) of tension force.
With signals from strain gauges, load cells and displacement sensors, facility engineers are able to tabulate detailed stress analysis reports and can marry them with finite element models and stress and fatigue analyses.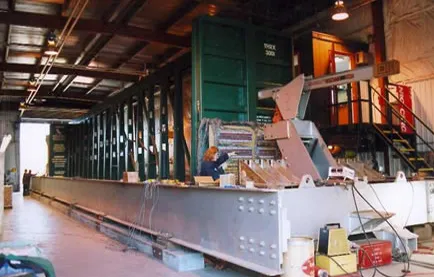 6. Wheel bearing and brake facility
Railway running gear components are the most highly stressed parts of the car and they are the number one cost item in most railways' rolling stock maintenance programs.
The NRC's wheel bearing and brake facility allows you to reduce wear and cut maintenance costs by identifying component concerns, limitations and failure potential before they become realities.
Our facility gives you a whole new dimension of analysis and problem solving to reduce wear and cut costs.
Virtually every part of the highly stressed running gear system can be mounted on the facility and run up to a wide range of speeds. The whole array of forces and stresses are imposed on the components and held, or swept, to reproduce the operating environment. Under these conditions, their limitations and failure modes begin to appear.
The facility can reproduce speeds up to 85 mi/h (136 km/h), axle loads double that of a 125-ton (113,000 kg) car, angles of attack up to ±27 mrad, and a wide range of water, grease and sand contamination.
The facility excels at reducing premature wheel wear and failure due to bearing and brake overheating.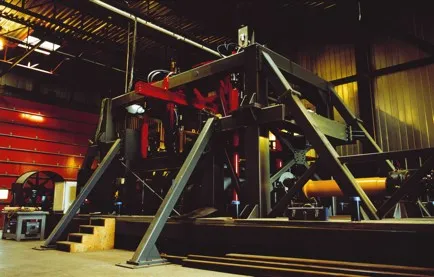 7. Nine metre wind tunnel research facility
The 9 m wind tunnel is a large, state-of-the-art, high-security facility capable of accommodating a variety of surface vehicles, ground-based structures and aerospace models. Operated by experienced engineers and technicians, it is the facility of choice for several international original equipment manufacturers (OEMs).
This facility has a proven record of adapting to a variety of unique test requirements and offers great value in the large-scale testing arena. Major renovations were recently carried out on its fan drive, balance weigh-beam controls and data acquisition systems, as well as on important mechanical components, such as the cooling system and main drive shaft components.
The ability to test in a repeatable environment with direct measurement of drag enables significant performance gains through the summation of several small improvements. Custom systems dedicated to truck testing allow the test efficiency required to cost-effectively develop models at full-scale Reynolds number. In addition, the 9 m wind tunnel's size allows the testing of real vehicles, which offers a cost-effective method for benchmarking performance without building dedicated models.
To address automotive OEM needs, the facility now has a ground simulation system. The flow represents on-road conditions more closely, increasing the fidelity of drag and lift measurements and giving confidence in underbody development activities. The availability of a 30 ft trailer on site provides a unique value proposition for commercial truck manufacturers looking for high Reynolds number, low-interference simulation.
Celebrating its 50th anniversary this year, the 9 Metre Wind Tunnel is the largest of 6 such facilities operated by the National Research Council of Canada's (NRC) Aerospace Research Centre. The tunnel itself is 274 m long, and has a volume of some 47,000 m3 (about 18 Olympic swimming pools). The test section floor space is 9 m x 22.9 m, with a ceiling 9 m high. Over the past 5 decades, it has played an important role in Canada's aerospace, surface transportation, and building industries by giving companies access to a large multifunctional research facility.
The NRC's 9 metre wind tunnel turns 50!
50th anniversary of 9m Wind Tunnel – video
8. Centre for air travel research
The Centre for Air Travel Research (CATR) at the National Research Council of Canada (NRC) is the only facility in the world designed to study the full experience of travelling by air. Inaugurated in 2018, the CATR and its team of experts work with academia and companies of all sizes to deliver world‑leading research for safe and healthy air travel experiences.
The facility includes all the features found in modern air travel to simulate the process of checking‑in, boarding and flying in an airplane. Airlines and aircraft manufacturers can customize the facility to meet their needs and use the space to conduct research using passengers in a realistic environment.
This facility, with its ability to recreate the airport terminal spaces as well as the aircraft cabin environment, is also a key enabler in helping the industry offer a safer and healthier air travel experience in light of the current COVID‑19 pandemic.
CATR consists of four laboratories (Airport terminal laboratory, Flexible cabin laboratory, Fuselage laboratory, and Human vibration laboratory), with each playing a unique role in recreating the air travel experience.
Centre for air travel research - Video - National Research Council Canada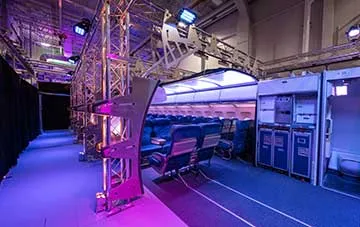 9. Research aircraft fleet
The NRC maintains a fleet of highly specialized and customizable rotary and fixed-wing research aircraft to assist industry with the testing and demonstration of aeronautical technologies in the areas of airborne research, flight mechanics and avionics. Our facilities are also used to support pilot education and certifications.
Our aircraft are housed in Ottawa but we travel all over the world to meet our clients' needs.
The NRC's fleet of aircraft includes:
Bell 412 (4-DOF airborne simulator)
The NRC Bell 412 Advanced Systems Research Aircraft (ASRA) is configured as a 4-DOF simulator for research in airborne simulation, handling qualities, advanced controls, active controls, pilot-vehicle interfaces and aircraft systems. ASRA is outfitted with advanced technology that makes it an ideal platform for research into digital fly-by-wire control systems, precise guidance and navigation, and active control systems. Advanced fly-by-wire features give ASRA a powerful variable stability and control capability, and an airborne simulation capability for air vehicle design and operational research and development.
As a sophisticated research test bed, ASRA allows researchers to investigate the impact on situational awareness, safety and mission performance of new control, guidance, navigation and communication technologies. The aircraft also serves to test advanced pilot-vehicle interfaces such as smart displays, helmet-mounted displays, synthetic vision systems, integrated hand controllers, and direct voice input.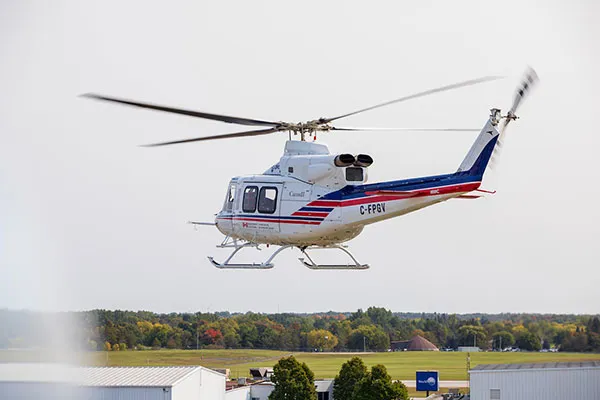 Bell 205 (4-DOF airborne simulator)
The highly modified fly-by-wire Bell 205A helicopter is configured as a 4-DOF simulator for research in airborne simulation, handling qualities and advanced controls, pilot-vehicle interfaces and aircraft systems. The Bell 205 Airborne Simulator is outfitted with single axis full authority fly-by-wire controls, programmable inceptors and a force-sensing side arm that makes it an ideal platform for research into digital fly-by-wire control systems and human interface issues.
As a sophisticated research test bed, the Bell 205 Airborne Simulator allows researchers to investigate the impact on situational awareness, safety and mission performance of advanced pilot-vehicle interfaces such as smart displays, helmet-mounted displays, synthetic vision systems, integrated hand controllers, and direct voice input.
The aircraft includes a sophisticated graphics display capability, a close support computing system for software development and testing, and a special display development facility (DDF) for ground-based validation of advanced cockpit technologies to be demonstrated in the airborne simulator.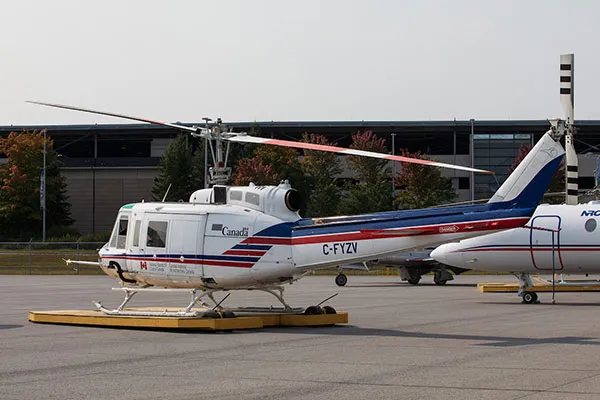 Bell 206 (single-engine helicopter)
The Bell 206B is a single-engine, teetering rotor, light-utility helicopter with dual flight controls and provisions for two research crews in the back seat, including an instrumented flight test engineering station. The NRC proprietary modular instrumentation architecture facilitates easy installation of additional channels for specific experimental requirements. Data from the Bell 206 instrumentation package has been used in the development of simulation facilities for the military and for private industry goggles as well as testing new avionics systems such as Automatic Dependent Surveillance-Broadcast units.
The Bell 206 plays a significant role in human factors research in the evaluation of new cockpit technologies, including helmet mounted displays and night vision. It has been equipped with night-vision-goggle (NVG) compatible lighting and serves as a test platform for night vision goggles and related systems for military, law enforcement, regulatory authorities, and others.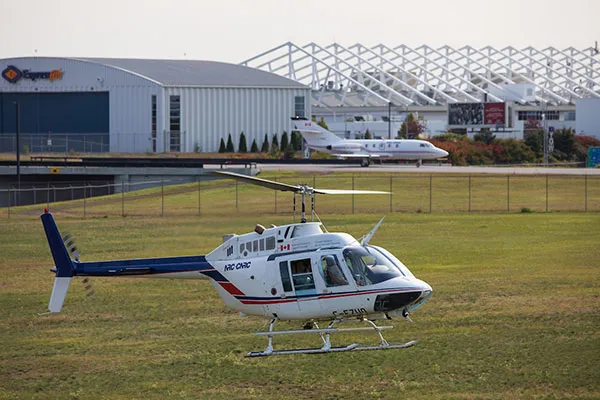 Convair 580 (twin-engine aircraft)
The Convair 580 is a twin-engine, pressurized aircraft capable of long distance operation carrying several racks of instrumentation and up to a dozen research crew members. It is also a multi-purpose flying laboratory supporting projects in atmospheric studies (low-level smog in urban areas, cloud physics, cloud chemistry, aircraft icing), gradient aeromagnetics, advanced navigation, spotlight synthetic aperture radar and precision aircraft positioning using differential global positioning system (DGPS) techniques.
The aircraft also features a suite of standard research support capabilities that include high-speed data acquisition systems, multi-camera video recording systems, free-stream chemistry sampling inlets, multiple navigation sensors, high bandwidth data-link communications, electro-optic and infrared sensors, wing-mounted pylons, and wingtip-mounted pods.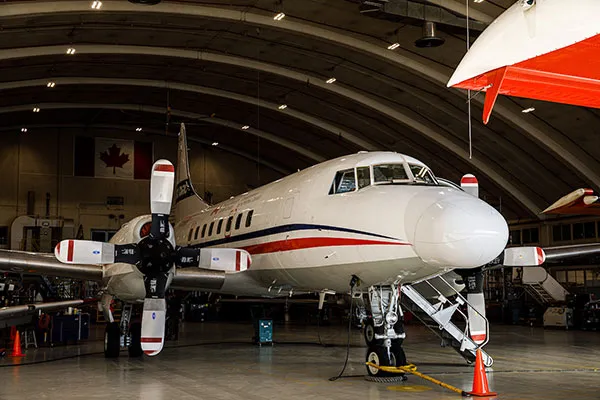 Falcon 20 (twin-engine business jet)
The Falcon 20 is a twin-engine business jet, capable of relatively high speed and altitude operations with a small complement of instrumentation and research crew. It has been modified for use in microgravity experiments requiring parabolic flight trajectories and equipment operating for periods at low g. With an extensive onboard data acquisition system, the aircraft can also be used for airborne geosciences studies, avionics research and aircraft based sensor research.
This aircraft is also equipped with separate feeder tanks from which the pilots can select different fuels for each flight segment, allowing for a portion of a flight to take place with an experimental fuel that may only be available in limited quantities. This capability makes it an ideal vehicle to support our clients' alternative fuels research.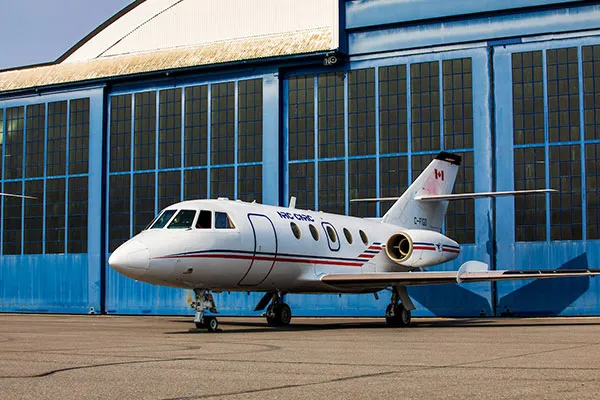 Harvard (single-engine propeller aircraft)
The Harvard is a post-war single-engine propeller aircraft used extensively by the Royal Canadian Air Force for flight training. It is capable of high-g "aerobatic" manoeuvers and carries 2 pilots and an advanced instrumentation package in the rear seat. Its flying qualities make it an ideal demonstrator for out-of-control recovery technique training and the rear cockpit can be modified to host advanced avionic displays. The unique display capability allows prototyping and assessment of novel and unique flight display technologies to aircrew in a broad range of flight conditions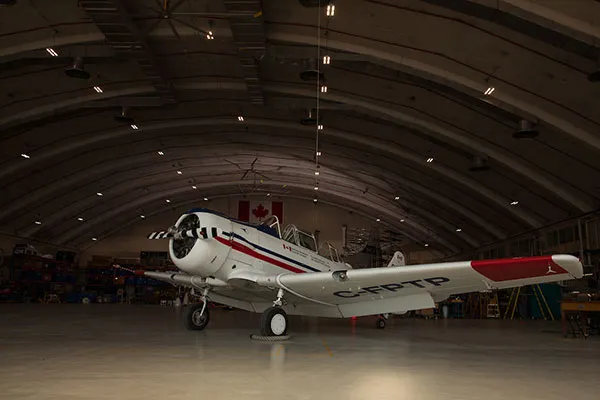 Twin Otter (twin-engine turboprop aircraft)
The Twin Otter aircraft is a twin-engine, unpressurized turboprop high wing STOL aircraft capable of 2-3 hour operations with a moderate amount of instrumentation. It is also a world-class, fully instrumented airborne platform for a wide range of atmospheric and biospheric studies, and for flight mechanics and flight systems development.
Research equipment installations on this aircraft include real-time digital computing and displays, modern navigation and guidance systems, state-of-the-art air data sensing, a control surface position measurement system, incident and reflected solar radiation systems, weather radar, video recording suite, laser particle spectrometers, electro-optic and infrared sensors systems, and a satellite simulator.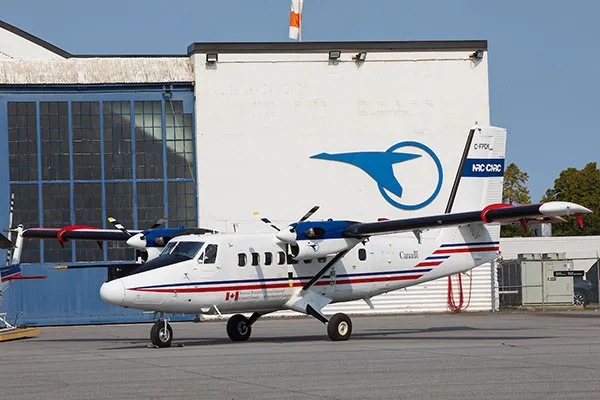 T-33 (vintage fighter jet)
The T-33 is a 1960s vintage "fighter" jet used extensively by the air force for flight training requirements. It is capable of high performance, high altitude operations with 2 pilots and a small instrument package.
This high-speed (to 500 KIAS), high G (-3.0 to +7.33), fully instrumented research aircraft is equipped for pressure standard calibrations (precise in-flight static pressure measurement), in-flight turbulence measurement (accurate three-axis gust measurement) and flight mechanics research (accurate measurement of aircraft motion versus control input).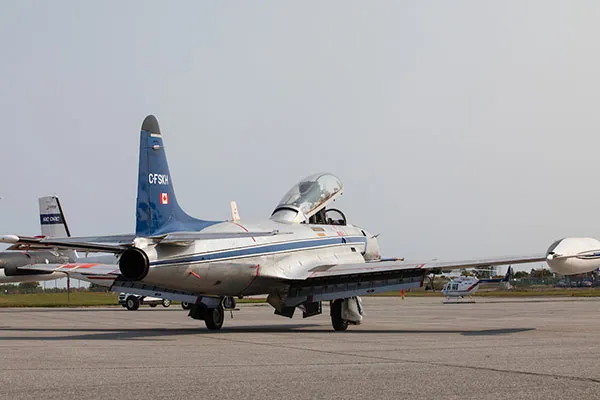 10. Reverberant acoustic chamber research facility
Unique in Canada, the NRC's reverberant acoustic chamber is a specialized, high‑intensity noise testing facility that is used for testing full‑size aerospace components at high levels of sound pressure field.
Our acoustic facilities are registered to the ISO 9001 quality management system and produce quality test results that continually exceed our clients' expectations. Our experienced, professional and dedicated research staff is on hand to support clients' testing requirements from start to finish, from design of experiments to the creation of reports. Testing is tailored to our clients' projects, and we customize testing approaches and assist our clients in interpreting results.
The NRC's noise testing facility operates two reverberation chambers. The small acoustic chamber measures 4.6 m × 4.6 m × 3.1 m and can supply a sound pressure level greater than 120 dB. The larger facility, with dimensions of 6.9 m × 9.75 m × 7.98 m, is able to generate overall sound pressure levels up to 158 dB through the use of Wyle WAS3000 airstream modulators and gas jets supplied by dry compressed air.
The closed‑loop controller analyzes and controls the noise level in the chamber automatically to ensure accurate spectrum shaping between 25 Hz and 20,000 Hz with tight tolerances. The noise spectra in the chambers has been shaped to match specifications of the space shuttle, rocket launches, aircraft structural excitation, engine nacelle noise, unsteady turbulent airflows and other specifications.
The high bay preparation area is a clean room facility with humidity and temperature control. To handle large test articles, there is a 7,000 kg DEMAG overhead crane in the clean room, a 7,500 kg MUNCK overhead crane in the intermediate room and a 6,300 kg ASEA overhead crane inside the reverberant chamber room, as well as a 30,000 lb capacity large fork lift truck for cargo loading.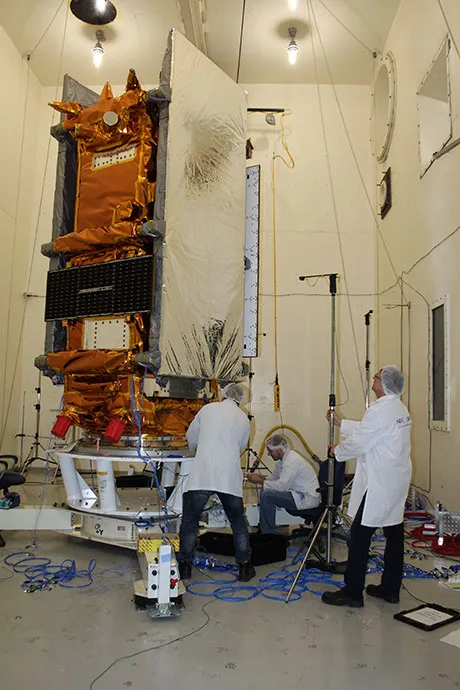 Area X.O
Areas: on-road, off-road, rail, and aero
Attendees to this tour will visit the Area X.O state-of-the-art private 1800-acre test facility that offers a safe and secure environment to create, test and demonstrate future mobility, autonomy and connected technologies. Any innovation. Any application. Any sector… from transportation and telecom to smart agriculture, defence, aerospace, public safety, and smart cities.
The private R&D facility tour will include a look at the unique infrastructure and assets available at Area X.O including the Command center, communication Infrastructure, smart city projects (V2X), motorized test targets, automated shuttles, robotic test grounds, autonomous Lexus and our robotic test and training facility.
Attendees will tour and see demonstrations of the following:
Tour of the Area X.O Command Centre
In partnership with Nokia, Kongsberg Geospatial, Senstar and Unifly we have created a unique Asset Tracking and Situational Awareness (ATSA) system. From inside our command center, we have real-time line of site to all assets on the test facility including drones and autonomous vehicles, that connect and identify themselves on our network. The ATSA provides Area X.O with a unified real-time view into all IOT assets and services, bringing efficiency and revenue opportunities with analytics integration, while facilitating rapid response based on automated workflows across multiple applications. The ATSA also enables an airspace situational awareness system to provide unmanned aerial systems (UAS) operators with the necessary situational awareness to safely operate unmanned aerial vehicles (UAVs) beyond visual line-of-sight (BVLOS). The tour will include a look at the work we are doing with SafeSmart infrastructure (traffic and rail) with the City of Ottawa, Ottawa Smart Farm, BlackBerry QNX cybersecurity tools, and the situational awareness and security system with Kongsberg Geospatial, Nokia and Magal.
AreaX.O Mobile Command Centre Demonstration (MCC)
Partners: Nokia, indro Robotics, SmartCone, Microsoft, Kongsberg
This is a fully standalone and secure 5G and 4G network that can be deployed anywhere and anytime. The 24 ft (7.3 m) sprinter van has been completely customized and includes an extendable antenna for the private 4G/5G network, as well as a tethered drone to provide increased height and additional wireless network coverage of up to 30 km (18.6 mi) in range. Additional onboard drones and ground robots utilize the van's private network to operate and allow for the easy mounting of sensors including cameras, radars, Lidars and thermal cameras. The MCC will also have Band 14 to validate products designed for first responders and for public safety. The system does not need external connectivity to operate, but it can be connected to the network if needed to share the data, though the 4G/5G network itself, through the wireline network, or satellite. It is a full solution comprised of a completely integrated command centre that provides a unified real-time view into all internet of things (IoT) assets and services and has a completely integrated situation awareness system that provides a view of the airspace, vehicles and personnel. The system can also receive data from numerous sensors and drones. MMC has onboard analytics and compute to do real-time analytics of the live video and information from drones ensuring safety and communication during all testing and demonstration activities. In addition, the vehicle has push-to-talk and push to video capabilities for any device in the covered area. A radio fusion system will ensure interoperability with existing Police, Fire and ambulance systems. The systems also include the HPE EL8000 Azure Stack solution to provide artificial intelligence (AI)-enabled video analytics solutions in the MCC.
Smart Infrastructure and Connected Autonomous Vehicle Demonstration
AreaX.O, in partnership with our industry partners, Transport Canada and the City of Ottawa, are working on numerous projects that are creating best practices and frameworks for the deployment of smart infrastructure and autonomous vehicles including low speed automated shuttles. This includes the test and validation of technology and solutions first in our secure, gated facility and then, when ready, deploy safely in real-world infrastructure. It also includes the use of the AreaX.O advanced communication networks, Connected Autonomous Vehicle, motorized test targets and the early integration of security and encryption (SCMS) to all the technology including on the on-board unit (OBU) on the vehicle and road-side unit (RSU) infrastructure. We will focus on the two key Transport Canada projects currently underway at AreaX.O that are focused on protecting vulnerable road users (VRUs) at traffic intersections and at-grade rail crossings. We are applying the World Economic Forums AAM Safe Driving -scenario-based connected and autonomous vehicle (CAV) testing framework to our VRU tests and we are contributing the data and safety learnings from these tests to the University of Warwick's Safety Pool Scenario Database.
AreaX.O has a drive-by-wire enabled Lexus 450H modified by AutonomouStuff. This is a fully functioning connected and autonomous vehicle (CAV), and at the same time a research and development platform. The vehicle is outfitted with "Autoware" autonomous driving sensors and software platform. This enables the vehicle to be used as a platform to validate sensor and V2X communication technologies in rail safety scenario testing. The CAV spectrum analyzer also has the capability to capture nearby disruptive and complex signals to understand the radio frequency (RF) environment present during the site testing and data collection process
Partners: Nokia, indro Robotics, SmartCone, Microsoft, Kongsberg
Area X.O - Drive the Future - youtube video
NIST Aerial and Ground Robotic Test and Training Grounds
The tour will include a demonstration of our new drone and ground robotic testing and training grounds that is currently being added to the AreaX.O infrastructure. It's the first in Canada to integrate National Institute of Standards and Technology criteria into its operations. Instruction will range from basic and intermediate levels to the highest skills required of emergency response and other public service pilots. Operators of ground UAVs will also be put through a full range of motions using a wide variety of terrain, surfaces, inclines, and even water. Area X.O also features a broad array of use cases in which the use of various sensors can be demonstrated, tested, and eventually mastered.
The following are some key solutions Area X.O provides to its clients:
1. Smart mobility
Driving the future of smart mobility
Enabling innovation
Testing and validation are critical to the safe implementation of CAVs and mobility solutions, and other innovations that are revolutionizing transportation. Area X.O is your trusted partner in this goal.
We enable the development, testing, validation, demonstration, and implementation of cutting-edge mobility solutions. Today, we are the only International Alliance for Mobility Testing and Standardization (IAMTS) affiliate in Canada.
Right now, we are collaborating with innovators on more cost-effective, efficient, clean and safe modes of transportation and shipping. This work also impacts supporting sectors, from healthcare and insurance to energy, environment, public safety and defence.
We enable innovation in:
Vehicle-to-Vehicle (V2V) communication applications and systems
Vehicle-to-Infrastructure (V2I) technologies and systems
Next-generation networks that underpin V2V and V2I innovation and applications
Software, hardware and associated cybersecurity technologies required to integrate these capabilities into autonomous vehicles and municipal infrastructure
It is the first integrated, end-to-end CAV test environment of its kind in North America.
Area X.O offers:
One of the most advanced communication test infrastructures in the world with many GPS (RTK) systems, Dedicated Short Range Communications (DSRC), 4G / LTE, WiFi, LoRa and pre-commercial 5G (including mmWave) from Nokia and Ericsson
Band 14, spectrum that's reserved for first responders; this enables a host of public safety, security, defence and related projects
Technology that enables R&D in communications and advanced networks
Expertise in CAV operations in inclement weather, including systems that pinpoint the location of hidden objects, cybersecurity, interoperability and use of CAV-generated data
It is the first integrated, end-to-end CAV test environment of its kind in North America.
2. Advanced communications
Helping to connect the world
Access top firms, tech and talent
Our facility is:
Equipped with V2X (Vehicle-to-Everything) connectivity including GPS (RTK), DSRC (Dedicated Short-Range Communications), 4G / LTE, WiFi, LoRa, and authentic pre-commercial 5G (including mmWave) from Nokia and Ericsson
Anchored in a thriving tech cluster with 250 communications technology companies employing more than 21,000 engineers and professionals
Founded in a global tech hub that is home to the top five mobile backhaul equipment market vendors, the top ten optical network hardware vendors and 90% of Canada's industry-led telecommunications R&D
Ottawa is a global leader developing the future of communication networks. Area X.O works directly with these experts, innovators and firms. We broker introductions, collaborators and projects for the clients we serve.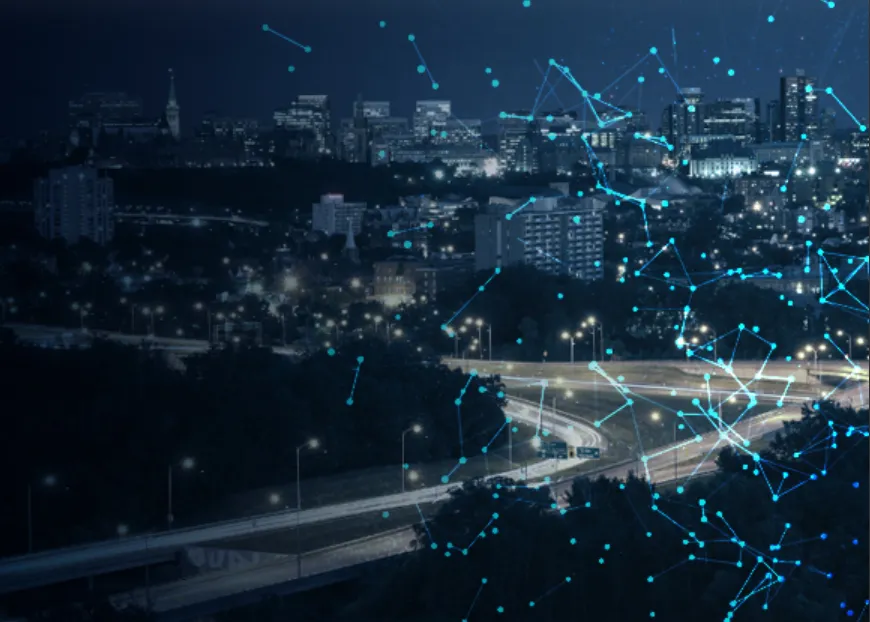 3. Smart agriculture
Unlocking the potential of agritech
Access top firms, tech and talent
Our facility is home to the Ottawa Smart Farm – an agritech innovation playground. Whether you're looking to develop, test, validate, demonstrate or commercialize smart agriculture solutions or Best Management Practices, this is the place to do it. Established by Invest Ottawa and the City of Ottawa, the Smart Farm:
Brings together autonomous systems, sensors, IoT technologies, telecommunications, big data, analytics, robotics, drones and CAVs on 100 acres of farmland
Is the largest secure test facility in Canada located at a former federal agriculture research facility in a completely fenced and gated 1,866-acre site
Is equipped with GPS (RTK), dedicated short-range communications (DSRC), WiFi, 4G/LTE, private LTE, LoRa, whitespace and 5G (including mmWave) telecommunications and networking infrastructure
Put technology to work
Cost and production efficiency
Crop yield and quality
Waste management and environmental sustainability
Overall farm management
Explore how we can help you:
Generate data related to weather, soil, pests, or hydration conditions and help you increase crop yield, quality and profitability while reducing water, fertilizer, herbicides, and insecticides
Make more informed decisions, maximize return on investment and boost productivity, performance, and profitability
Accelerate the commercialization and adoption
Connect to global markets and help export solutions around the world
4. Defence & Security
Advancing innovations in defence and security
Area X.O helps accelerate the development, testing, validation, demonstration of new security and defence technology-driven products and services. As a G7 capital city and headquarters for most federal government departments, Ottawa is the national hub for Canada's Aerospace, Defence and Security (ADS) sector.
Anchored by Fortune 500 companies, Ottawa has a cluster of globally competitive ADS small and medium-sized enterprises. These companies have large reservoirs of top talent. In fact, our region is home to more than 190 companies that employ 10,000+ professionals with ADS expertise.
Test and prove
Area X.O is a rich test facility and proving ground with:
Access to prospective ADS R&D business collaborators, customers, investors and suppliers
More than 1,800 acres of gated land
Advanced networks, including pre-commercial 5G
A selection of CAVs and Unmanned Aerial Vehicles
Collaborate with global leaders
Area X.O is proud to support and collaborate with global leaders in defence, public safety and security, including:
Companies such as Provectus Robotics Solutions and Irdeto
Law enforcement, first responders and public safety organizations
Government departments and agencies, including:

Communications Security Establishment (CSE)
Canada's Department of National Defence (DND)
Defence Research and Development Canada (DRDC)
Innovation, Science and Economic Development Canada (ISED) and
Unmanned Systems Canada
5. Drones
Unmanned aerial systems and drones (UAVs)
Area X.O, in partnership with InDro Robotics, allows the design and implementation of UAVs test, projects, and use cases on 1,866-acres that's private and gated.
Our facility offers:
One of the most advanced communication test infrastructures in the world with many GPS (RTK) systems, Dedicated Short Range Communications (DSRC), 4G / LTE, WiFi, LoRa and pre-commercial 5G (including mmWave) from Nokia and Ericsson, and satellite communications systems
Band 14, spectrum that's reserved for first responders; this enables a host of public safety…
Access to certified UAV technologists who are trained and authorized to operate drones and conduct a variety of tests and demonstrations
Nokia drones that are fully connected to our private, secure, high capacity mobile broadband network
Testing remains unaffected by congestion in the public network and can be operated manually when needed
Maximum upfitting and customization with drones allow for design, validation, demonstration and testing of cameras, loudspeakers, searchlights, and customizable sensors for smoke, motion, radiation, and much more
Dual camera gimbal with mounted HD video and thermal video cameras, among other features enabling data and image capture
The ability to test performance in a four-season climate ranging from -39 to +39°C (-102 to +102°F)
Emergencies
Search for missing persons with thermal cameras and a fleet of drones
Deliver first aid kit and medical gear
Map and route guidance after earthquakes and floods
Provide situational awareness for police and other responders
Preplan data and EOC over watch
Extinguishing
Video streaming improves the situational awareness and supports resource planning, risk evaluation and decision making
Sensors and analytics can warn about hazardous gas
Sensors and analytics can warn about hazardous gas
Prevention
Find fire points in forests/dry areas to prevent a larger fire
Monitor fire in cities
Detect hot spots
Break monitor floods and fire
Conduct digital elevation modeling for rapid risk assessment and modeling
Do pre and post mapping of disasters to direct rescue and provide lessons learned
Street and Border Safety
Police drones patrolling at-risk areas
Crowd behaviour monitoring and analysis
Border inspection
Inspection of closed or industrial areas
Gunshot listening and alert
Accident reconstruction and reporting
On scene situational awareness feed to operators on the ground over connected feed
Surveillance and Inspection
Road inspections
Railroad surveillance
Harbor management
Shore line inspection
Traffic mapping
City planning use
Pattern of life analysis
Sensing the Air
Monitoring of air pollution through scheduled flights with sensors
Meteorological measurements
Gas detection
Pipe and other static infrastructure inspection for fugitive emissions
Cloud and plume mapping
Water Quality
Analysis of water colour
Detection of oil leakages
Monitoring of vegetation
Habitat health and temporal change monitoring and reporting
Hyper/Multi spectral analysis of vegetative health
Precision monitoring and fish counting
Event Management
Live video streaming
Controlling borders of event, detection of movements
Event analytics (counting people, most crowded places)
Route finding and planning for choke and traffic points
Asset tracking and allocation of responders at appropriate points in space and time
6. Smart cities
Building the smart way
The smart city living lab
Area X.O enables public and private sector innovators to develop, test, demonstrate and implement smart city technologies and urban infrastructure solutions in our high-tech, connected smart city living lab.
At our facility, innovators create customized test cases and scenarios with our 'plug and play' sensors and IoT devices, authentic city infrastructure, and leading-edge networks, data analytics, and cloud storage – all managed through our command centre.
Our Command Centre
Rapidly deploy, test, validate and demonstrate your smart city solution to:
Test different devices and sensors with numerous control endpoints that generate real-time data and facilitate real-time automated actions and operations
Test different devices and sensors with numerous control endpoints that generate real-time data and facilitate real-time automated actions and operations
Achieve efficiency and identify revenue opportunities with analytics integration
Facilitate rapid response based on automated workflows across multiple applications
Dramatically reduce the time and cost of launching new smart city services while making optimal use of legacy city assets
7. Our facility
The futureplex of innovation and collaboration
Accelerating the advancement of next generation technologies
Here, we accelerate the safe development, testing, validation, demonstration and commercialization of disruptive technologies in a fully integrated Vehicle-to-Everything (V2X) environment. These technologies include connected and autonomous vehicles or CAVs, unmanned aerial vehicles, robotics and IoT innovations.
Discover the difference
The Area X.O operates one of the most advanced communication test infrastructures in the world with numerous GPS systems, 4G/LTE, WiFi, LoRa, TV white Space and authentic pre-commercial 5G (including mmWave) from Nokia and Ericsson and satellite communication systems.
Low-Speed Autonomous Shuttles and other CAVs rely on these communication systems and a multitude of sensors to navigate safely
Runs Band 14, spectrum dedicated to first responders, enabling public safety, security and defence CAV and related tests and projects
Is anchored in the heart of Canada's Capital, 15 minutes from Parliament Hill, seat of the federal government, with proximity to policymakers and legislators
Collaborate with global leaders
Our facility features:
A 1,866-acre, secure, fenced and gated private facility
The largest secure test facility for CAVs in Canada
The Ottawa Smart Farm
Our public innovation facility and test track
Our Prototyping Lab
Area X.O 5G Mobile Command Centre
Explore our facility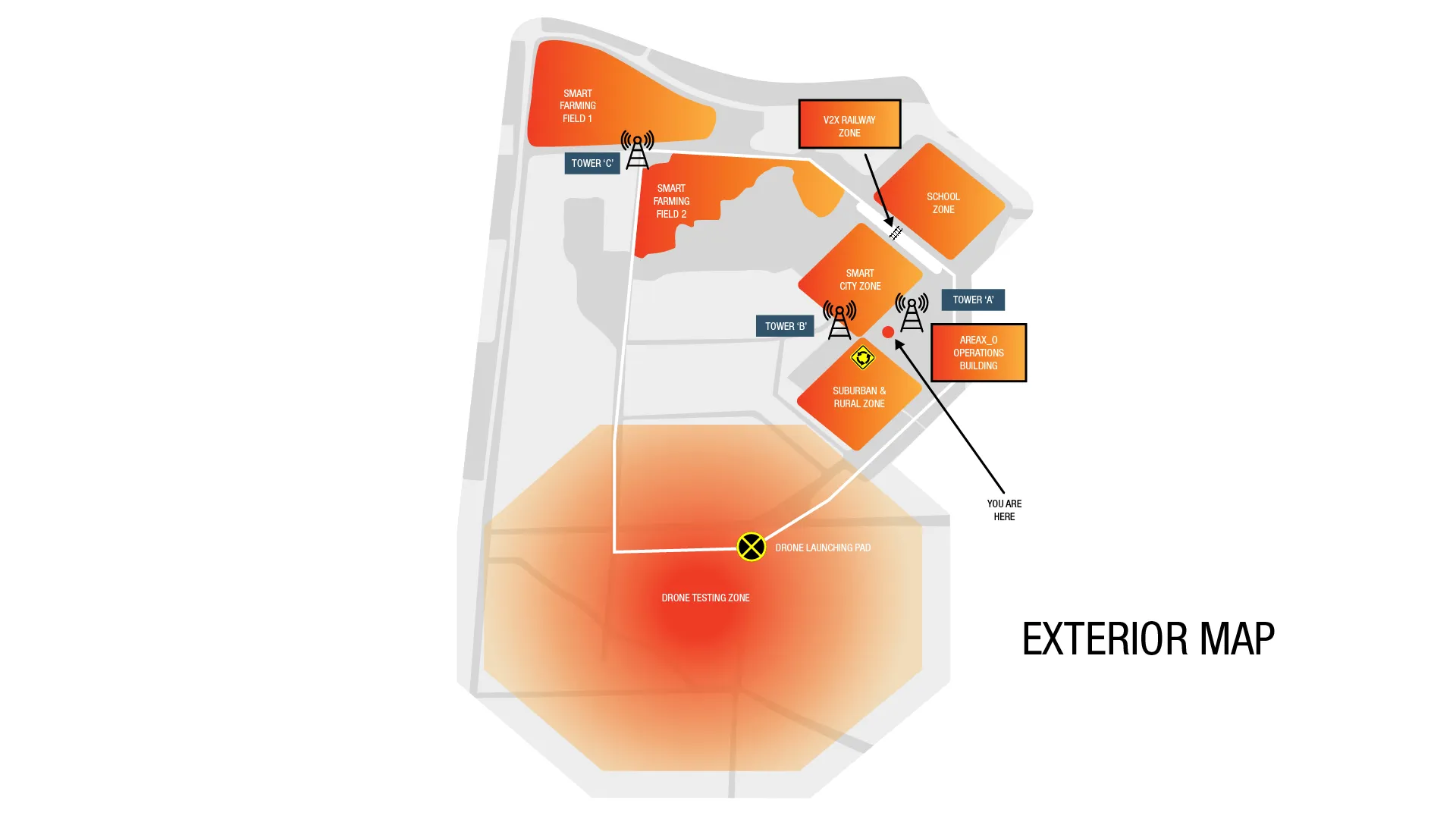 8. Assets and capabilities
The futureplex of innovation and collaboration
Plug and play sensors, connectivity and data collection
Address your specific goals, requirements, projects and use cases.
Leverage the 'plug and play' sensors, power and fibre connections embedded throughout our facility – from our private and public test tracks to our Smart City Zone and smart fields.
Take advantage of simple and seamless sensor connectivity and data collection while onboarding any additional sensors you might require.
Area X.O Smart Railway Crossing
The Smart Railway Crossing aims to help improve the safety of railroad systems. It enables you to:
Quickly onboard and test new technology, sensors and devices, and interact and communicate with road users and CAVs.
Area X.O is equipped with asset tracking and situational awareness capabilities
Safety is our top priority. Our novel asset tracking and situational capabilities help deliver on this objective as:
All assets, including our drones, CAVs and shuttles, immediately and seamlessly connect to, and self-identify on, our secure network
You can easily connect multiple technologies and control systems across our network to manage our drones or vehicles
All information generated through these systems is shared with our airspace management tools and live incident management systems
Take control at our Area X.O Command Centre
The command centre is the heart of our facility with a broad array of sensors and IoT devices, authentic city infrastructure, and leading-edge networks, data analytics and cloud storage. It enables you to:
Test different devices and sensors with numerous control endpoints that generate real-time data and facilitate real-time automated actions and operations
Orchestrate and manage these actions with a unified real-time view into all smart city assets, infrastructure and services
Mobile mannequin test targets
We operate a suite of crash avoidance target equipment. These target systems:
Enable you to conduct precise and repeatable test scenarios between autonomous shuttles and vulnerable road users such as pedestrians and cyclists
Feature three different active articulated motorized test targets
Are pulled by a track system and synchronized to produce dynamic conflicts between the shuttle and the Vulnerable Road Users (VRU)
Can be used for testing in wet conditions with the ability to withstand crashes up to 60 km/h
Operate on battery power with a minimum operating time of 10 hours at low temperatures
Our autonomous car - your AV R&D platform
Put our autonomous bywire-enabled Lexus 450H to work by:
Leverage our fully functioning AV driving sensor and R&D platform created with AutonomouStuff
Develop and validate your technologies and algorithms
Develop ROS drivers that "plug-in" to our open-source environment for data collection in parallel with standard vehicle reference sensors
Utilize our low speed autonomous shuttles
We have available two four-seater Aurrigo Low Speed Autonomous Shuttles (LSAS). As the first organization in Canada to transport, own, insure and operate LSAS vehicles, we have performed numerous deployments on private and public roads and test beds. Our shuttles are:
Specially designed for first and last mile applications
Compact and highly maneuverable fully electric vehicles equipped with a SAE J3016 level 5 compliant autonomous control system
Equipped to enable autonomous mobility having brought together on-Pod stereo cameras, LIDAR sensor, dGPS inertial measurement unit (IMU), wheel odometry, safety laser and ultrasonic transducers
Area X.O Emergency Command Station
Our mobile emergency command station is a fully standalone and secure 5G and 4G network that can be deployed anywhere and anytime – without any external connectivity. Completely customized, this 24-foot sprinter van features:
An extendable antenna to spin-up a private 4G/5G network
A tethered drone that provides increased height and additional wireless network coverage up to 30 km
Additional onboard drones that utilize this private network to fly and offer the ability to mount a variety of sensors, cameras, radars, and LIDARS
Band 14, the spectrum reserved for first responders, enabling the validation of defence, security and public safety products and technologies
A fully integrated command centre that provides a unified real-time view into all IOT assets and services
A completely integrated situation awareness system that provides a view of the airspace, vehicles and personnel
Cybersecurity testing and solutions
As the automotive industry evolves towards connected and autonomous vehicles (CAVs) and introduces increased connectivity, new cybersecurity threats emerge. Area X.O:
Offers technology and expertise to analyze cybersecurity risks and implement key security measures to preserve the safety of vehicle passengers and other vulnerable road users.
Offers technology and expertise to analyze cybersecurity risks and implement key security measures to preserve the safety of vehicle passengers and other vulnerable road users.
Is a comprehensive environment for testing, validating and demonstrating cybersecurity threat scenarios and solutions
Is equipped with technology and expertise from organizations such as BlackBerry QNX
Has experts who can help formulate cyber testing, validation and implementation of customized cybersecurity plans
Facilitates opportunities to collaborate with innovators and policymakers on the development of standardization, policy and regulatory frameworks for the cybersecurity domain
OC Transpo
Areas: on-road and rail
OC Transpo provides public transportation in Canada's national capital, Ottawa, Ontario, 365 days a year in rain, snow, or shine! The fully accessible fleet comprised of buses (including zero-emission buses), the O-Train, and Para Transpo vehicles, provided 97.5 million customer trips in 2019. The integrated multimodal transit system connects passengers across 480 km2 of service area, including interprovincially into Gatineau, Quebec, which minimizes road congestion and provides an environmentally responsible means of travel.
First launched as the Ottawa City Passenger Railway Company in 1867, OC Transpo as we know it today was formed in 1973. Para Transpo service was introduced in 1981. The first rail transit facility opened in 2001 and was an 8 km diesel light-rail service running south to north. The O-Train Line 1 launched in 2019 and is a 12.5 km electric light-rail service running east to west through Ottawa's downtown. The current Stage 2 LRT Project will extend the O-Train to the east, west and south, providing an additional 44 km of track and 24 new stations when the project is complete.
Rail
O-Train Line 1 is a 12.5 km electric light-rail service that opened in 2019 running east to west from Blair Station to Tunney's Pasture Station and through a 2.5 km downtown tunnel that connects 13 stations (four underground). Line 1 is served by 17 trains each made up of two Alstom Citadis SPIRIT cars. Each two-car train can move up to 600 passengers comfortably and the system can accommodate up to 10,700 passengers per hour, each way.
The Stage 2 Project will grow the existing network, reaching more communities in the east, west, and south. The East-West O-Train Extension will grow the current fleet with the addition of 38 new Alstom Citadis SPIRIT trains, extend the track by 27.5 km, and add 16 new stations and a new Light Maintenance and Storage Facility. The Stage 2 South O-Train Extension Project includes updates to existing trains, stations, signals, and track, along with the addition of seven new Stadler FLIRT Diesel Electric Multiple Unit (DEMU) trains, 16 km of track extension, eight new stations, and a new maintenance and storage facility.
Road
As of March 2023, OC Transpo's fleet of buses consists of over 900 vehicles serving 170 routes including 344 40-foot buses (Nova LFS and Invero D40i), 356 New Flyer 60-foot articulated buses, 151 Alexander Dennis Double decker buses, 80 GMC Para Transpo mini-buses, and four New Flyer XE40 zero-emission buses (ZEBs). All OC Transpo buses are low-floor, 100% accessible, and include the automated Next Stop Announcement System (NSAS). All conventional buses are equipped with bike racks during the cycling season, and the program is being piloted year-round in 2023.
The ZEBs are estimated to save approximately 38,500 tonnes of greenhouse gas (GHG) emissions each year. These 40-foot buses will operate at all times of the day and on several trips and routes to gain experience under a variety of conditions. They are recognizable by their red and green appearance that promotes their role in reducing greenhouse gas emissions. The Canada Infrastructure Bank (CIB) has invested $380 million with the City of Ottawa to help finance up to 446 more ZEBs through 2027.
Transit Operations Control Centre
OC Transpo's Transit Operations Control Centre (TOCC) is the multi-modal nerve centre of OC Transpo operations. Staff at the TOCC monitor on-street activity, bus operations and rail service in order to provide fully coordinated and seamless service to customers. Staff coordinate major events that impact service delivery and coordinate maintenance responses with Rideau Transit Maintenance (RTM). The space was designed to balance free-flowing communications without unnecessary interruptions. Design features include cork floors and acoustic wall panels.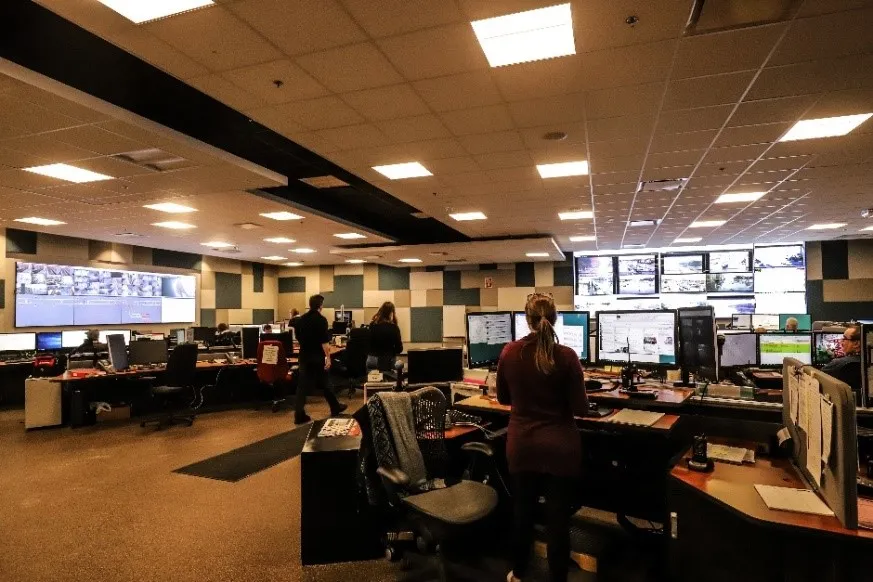 Belfast Yard
Belfast Yard is a maintenance and storage facility primarily occupied by Rideau Transit Maintenance (RTM), the project maintainer. Spaces include a storage shed with capacity for 64 light rail vehicles, six service bays, a lathe capable of turning light rail vehicle wheels without removal and a drive through train wash facility. Belfast Yard also includes a Yard Control Centre (YCC) to manage yard movements. The YYC can also be used as a back-up control centre when the TOCC is unavailable.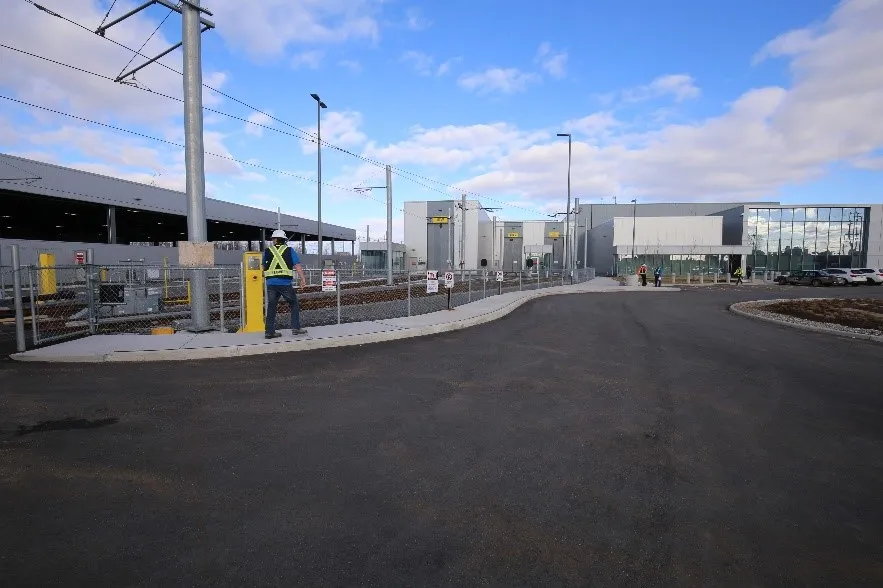 Simulators
OC Transpo's Training and Development group is responsible for training and certifying new and existing employees on conventional buses, trains, and Para Transpo buses. Training takes place at OC Transpo's Simulator training facility which houses a simulator for buses and mini-buses, and simulators for each model of train.
The rail simulator is complete with a realistic and interactive train car mockup. The simulator allows for trainees to learn the safe operation of a train, the "soft skills" of an operator, and to build their comfort level prior to being exposed to revenue service. The simulator also allows for existing operators to be challenged with a variety of scenarios such as emergency braking, fault recovery and track intrusions.
Transportation Safety Board of Canada
Areas: rail, aero, and marine
The Transportation Safety Board of Canada (TSB) is an independent agency that advances transportation safety by investigating occurrences in the rail, air, marine, and pipeline modes of transportation.
The TSB is recognized as a leader in the field of transportation safety. The TSB shares knowledge, expertise, and experience with the international transportation community in order to advance and promote worldwide transportation safety.
A guided tour to the TSB Engineering Laboratory will be provided. The TSB Engineering Laboratory plays a pivotal role in the investigation of railway, aviation, marine and pipeline accidents. Its staff helps determine whether mechanical, electrical, material, structural or other deficiencies contributed to accidents. Lab experts analyze information from cockpit voice and flight data recorders, electronic equipment, field photographs and site surveys, to piece together the sequence of events leading to an accident. Lab staff are often called upon to analyse engines, transmissions, gearboxes, structural members and all forms of transportation components to determine if failure was causal to the incident or as a result of the incident.
Visitors can expect to see some wreckage and components related to accident investigations, equipment used by investigators to examine materials and electronic systems, and the flight recorder analysis area. Visitors will also be able to speak with TSB investigators about their areas of expertise.
Conference Questions
If you have any questions or further inquiries, please kindly contact:
Email:

[email protected]
Privacy Disclaimer: This website and any affiliated third party do not collect your personal data, including but not limited to your IP address, location, e-mail address. As we do not employ cookies, trackers, or any other such methods, this website does not respond to browser Do Not Track settings.